31 Oct

What To Focus On In Your Business In 2019 – Part 1

Have you seen the latest statistics?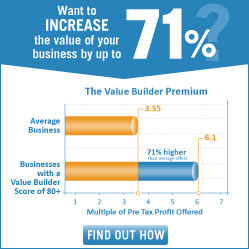 According to Business Enterprise Institute, 79% of small businesses will be exiting their businesses, whether by transferring ownership or shutting them, in the next 10 years.
What does that mean for you?
Well it all depends on what type of business you are in and and what stage your company is at.
Are you a multi-generational family business… looking at succession planning to the next generation and wondering how to finance the transfer?
Are you a business owner who would like to plan an exit in the next 5 years knowing you'll be able to get the maximum price possible for your company?
Are you a newer business that wants to be stable, scalable and even 'sellable' if a strategic buyer comes knocking?
Ironically, the challenges to success for each of these strategies is identical.
Nearly 30 percent of the businesses sold the last three months of the year were restaurants, bars or other eating and drinking places. 18 percent were retailers. Forty percent were service providers, in a wide range of industries from hair salons to landscapers to dry cleaners. Three percent were manufacturers,
A deeper look into transactions reveals that stronger financials are ultimately behind the record number of sales.
AND it all presents a problem for you if you're thinking of exiting…
Successful transitions generally take five to seven years to implement. Successful as in one in which the owner leaves the business when they want, to whom they want, and with enough money to live their desired lifestyle afterwards.
But it's more complex than that. Here's what I mean:
Just because you are thinking of selling doesn't mean you'll get an offer, nor will that offer be at the value you emotionally believe you should get from the sale.
Hundreds of thousands of companies run by Baby Boomers are going to undergo a transfer of ownership voluntarily or involuntarily. The ones who survived the last economic downturn, now are seriously looking to exit and capitalize on rising prices. This is especially true for retirement-seeking Baby Boomers who would rather pocket their gains now than risk having to fight through another recession.
Boomers are currently reaching age 65 at a rate of about 8,000 to 10,000 a day, or 3,500,000 a year. That would mean that at least some 100,000 business owners a year are reaching retirement age…, although we know that Boomer owners tend to hang on longer.
In 2017 the data collected from business brokers showed 9,919 businesses sold, up from 7,842 in 2016. That's not very many, is it?
Brokers are already being bombarded with the older Boomers deciding they want to sell 'right now'… whether or not their business is actually 'sellable.'
But John Dini, founder of the Exit Map calculates that over 300 businesses will hit the market per day for the next two decades.
Some of those will be sold privately without an intermediary. Many are log-jammed by owners who haven't figured out their exit yet. A substantial number may work until 70 or later. The youngest Boomers are 50 years old. They still have a while, but they will get there. No matter what the reasons for delaying any individual exit, the fact remains. Sooner or later every owner leaves his or her business, and the transition of the Boomers will be like nothing ever seen in the small business universe.
During that same period, folks retiring from employment are expected to be on the look out for businesses they can take on for perhaps a decade, to build it in value and then sell it and reap the profits.
Meanwhile, folks in their 40's are going to be starting their own businesses… including fresh competition to the older companies.
Overall, 10s of 1,000s of businesses will be on the market and buyers will be having a field day selecting which ones they are willing to invest time and money in.
Research by John Warrilow  on over 39,467 companies with revenues between $1 million and $20 million has shown that buyers are increasingly savvy about what they'll pay their money for.
They are looking for stable, sustainable businesses with growth potential and predictable profits that are well run before they ever walk in the door.
That is the combination that makes the ideal business 'sellable.'
And they know how to rate the businesses they're looking at for those characteristic in determining how much they'll offer for the business.
Across the professional institutes conducting research, they're finding that today (before the flood hits) only 12% of businesses are receiving offer. At all.
John Warrilow's Value Builder's research has found that businesses scoring 80% out of 100% on the Value Builder scale receive written offers 71% higher than the average business that got an offer.
So what does that mean for you?
It means that if you want to be running a company that could be sold, you need to understand the 8 Drivers of Value in a business, and be maximizing the value in yours, as soon as possible.
Here is what Value looks like:
Your business needs to have proven 'independence,' from you, from vendors, employees and customers. If it is over reliant on you or any 1 of them, your business is actually scored as 'risky' rather than reliable.
Your business needs to have a proven future stream of revenue. If more than 70% of your sales are from new customers each year, your company will require the new owners to take on a marketing and sales load beyond what new owners are looking for.
Your business needs to have a close handle on tracking its performance measures, to prove to a buyer exactly how the business is doing.
These characteristics are critically important.
So much so that not only will brokers be evaluating your business using them, but day in and day out every bank is using them to determine which banking tools they will make available to you and what rate they'll charge you for them.
Does this mean you must sell your business?
No, it absolutely does not! But the side effect of focusing on these drivers is that your business becomes more profitable, from stable, scalable and bankable.
But the moment you start to think about the very idea of having a business that IS 'sellable' at any point in the future, YOU need to make these issues a priority.
In the next article I'll be sharing more details on the 8 Drivers of Value in a business.
Meanwhile, if you'd like to know how your business currently scores against it's market competitors, you can find out at no cost by taking the Value Builder Assessment at http://bbdnow.com/score
Feinholz Inc – Helping Businesses Grow Further, Faster, Easier
Business Breakthrough & Value Building Specialist | www.Feinholz.com | 310-259-9559 c | 818-989-5989 t
Consulting & Mentoring To Entrepreneurs & Multipreneurs | From Strategy Through Action To Results 
Author of "Breakthrough: The Success Guide for Entrepreneurs and Business Owners" ©2012, 2014