12 Jan

Release from The Breakthru Alliance helps managers improve coaching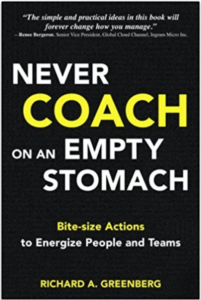 Richard A. Greenberg, president of The Breakthru Alliance, has released a new must-read book, "Never Coach on an Empty Stomach", for any manager interested in improving their coaching skills.
"I wrote this book for every manager who wants to lead an energized, high-performance team," Greenberg says. The book features bite-size actions to energize people and teams. Released by The Breakthru Alliance, it is available on Amazon.
"Never Coach on an Empty Stomach" guides leaders through Greenberg's innovative approach to human capital. This approach has pushed improvements at dozens of Fortune 1000 companies and in the public sector as well.
Greenberg is the founder of The BreakThru Alliance, an international consulting firm that builds client growth with 'a-ha' breakthroughs. He has advised executives and community leaders across the globe with more than two decades in executive coaching and leadership development, strategy and structure consulting, and employee engagement.
All profits from books sold before 2018 were donated to The Liberty Crew Foundation, a non-profit organization dedicated to "helping families and individuals understand and proactively deal with the disease of addiction."